Christie® Mystique™ is a warping and blending tool that simplifies the deployment and maintenance of multi-projector systems by letting users easily and accurately align content on screens and surfaces in minutes. Pro Venue Edition is ideal for staging production companies, integrators and end users looking to easily and quickly align and recalibrate multi-projector arrays, including stacks and blends in temporary or fixed installations, as well as stages and sports playing surfaces.
A simple interface guides users through a step-by-step process and provides real-time feedback. Users can achieve professional, high-quality results working with complex projection arrays, with no experience required. Working in conjunction with Christie Twist®, Pro Venue Edition enables the seamless warping and blending in a single display in less than two minutes per projector.
Improve overall image fidelity and uniformity
Automated color and brightness uniformity1 – At the click of a mouse, you can adjust color and brightness uniformity across projectors in multi-projector blended arrays to display one seamless image2, ensure a quality audience experience and save time when setting up your display.
Background compensation1 – Need to project on a less-than-ideal background? Using a color camera to detect large contrast differences on your screen or projection surface, Mystique makes automatic adjustments to compensate for visual imperfections such as smudges, dirt or other surface anomalies to provide a more uniform projected image and maintain image fidelity.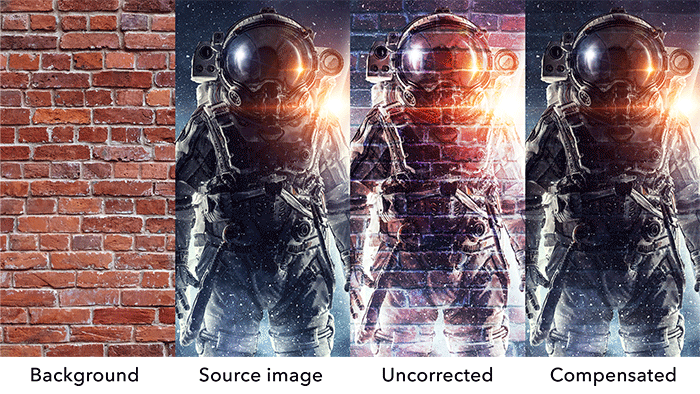 1 Requires Mystique Version 2.5 or greater and a single, color camera. Supported projectors: Boxer® 4K30, Mirage 304K, Griffyn® 4K32-RGB, D4K40-RGB, Mirage 4K40-RGB, Mirage SST, and Mirage SST-6P
2 The results will be limited by the lowest-performing projector in the array
​Add the additional security and constant vigilance of Christie Guardian
A powerful optional feature of Mystique Essentials and Pro Venue Editions, Christie Guardian​ constantly monitors a blended projection system for any misalignment. If Guardian detects a misalignment, it automatically calibrates the image in real-time, quickly, invisibly, and without interruption, even when content is playing so audiences are unaware of any problem.
Marked surface alignment
The marked surface alignment feature leverages the pre-set markings on a surface to align the projectors rather than relying on LED or laser-based marker systems. This makes it ideal for applications such as stages for live performances and ice or court projection mapping where the surface has known features such as face-off circles, hash marks and other distinct markings. To make the process even easier, Pro Venue Edition recognizes small changes in the position of the projectors, camera and even the projection surface and automatically resets the alignment to the original position, simplifying and accelerating regular maintenance with the click of a button.​
Supported screen types
| | | |
| --- | --- | --- |
| Flat | Curved | Playing surface projection mapping |
| Dome | Wave | Dark ride |
Mystique lens and camera options
Mystique - Pro Venue Edition supports a variety of Ethernet* cameras and lens options which are pre-calibrated as a pair to ensure maximum image quality. For help choosing the correct lens and camera pair for your application, use the web calculator.
Lens and camera combinations available
5MP CCD POE Ethernet* camera with 5mm lens**
156-107109-XX
5MP CCD POE Ethernet* camera with 8mm lens**
156-146102-XX
5MP CCD POE Ethernet* camera with 12mm lens**
156-147103-XX
5MP CCD POE Ethernet* camera with 16mm lens**
156-148104-XX
5MP COLOR CCD POE Ethernet* camera with 5mm lens**
156-151108-XX
5MP COLOR CCD POE Ethernet* camera with 8mm lens**
156-152109-XX
5MP COLOR CCD POE Ethernet* camera with 12mm lens**
156-153100-XX
5MP COLOR CCD POE Ethernet* camera with 16mm lens**
156-154101-XX
*Additional networking considerations required for Ethernet camera.
**Note: Camera and lens pair sold separately.
Resources
Web calculator recommends the best lens and camera based on a display's requirements
Taking the next step
Do you have an idea for a spectacular visual experience? Speak with our experts today.​ Get in touch »