Professional Services provides parts and services to WOW audience
Built in 1948, the Lake Theatre & Cafe in Oscoda, Michigan is a big part of the local community. With a single screen, it offered first-run and older films for the town of approximately 7,000 people.
When it came up for sale, residents Teresa and Jim Edelman knew that they didn't want to see it disappear. They bought the theatre in 2022 and have worked hard to engage the community in its revitalization and programming.
The process of running the theatre hasn't been without its challenges. Recently, Teresa and Jim called in our Professional Services team to help with parts and service for the theatre's Christie® Solaria One cinema projector.
Bryan Weil, customer account manager, and David Naylor, regional field manager, and our parts coordination team worked to overnight parts to the theatre, and Jamie Hornsby, customer service engineer lead, was dispatched and arrived at the site in just four hours.
Jamie installed a new light engine, backplane, and Projector Intelligence Board (PIB) and performed software upgrades.
"On numerous times, she [Jamie] went into full-on 'MacGyver mode' and made seemingly microscopic parts fit into impossible-to-reach areas of the projector," says Jim Edelman, co-owner of the Lake Theatre.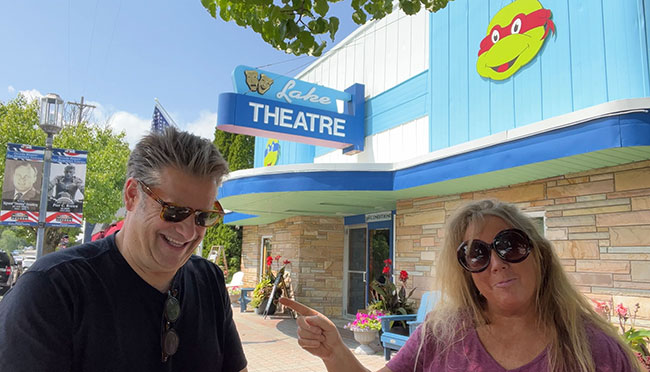 Jim, Teresa, and the audience noticed the difference when the repair was complete.
"I can't tell you the difference a new light engine has made in our final screen image!" Jim says. "Color depth, rich and vibrant textures; even the water sheen on faces was something that made me say 'WOW!' As people left the theatre last night, they thanked us for working hard to keep it running."
But it wasn't just about how great everything looked. Jim openly expressed his appreciation of our efforts onsite.
"When we have an opportunity to impact not just a theatre but a town, we're always there to help."
"You have no idea how good it felt to wake up this morning without the question of 'hmmm…what's going to go wrong at the Lake Theatre today?'" he explains. "The level of happiness we're experiencing today is directly tied to the work you all did to make this repair happen. Jamie Hornsby's attention to detail and pulling off this repair is beyond what we have ever experienced in our professional careers."
The team was incredibly proud of the work they completed onsite. "When we have an opportunity to impact not just a theatre but a town, we're always there to help," says Bryan Weil.
"We truly enjoy supporting small theatres that are part of the fabric of so many small communities across the nation."
Christie Professional Services provides service and support to some of the largest events, cinemas, and professional venues around the world, and is one of the industry's most trusted advisors in designing, manufacturing, deploying, and supporting professional AV display systems.
With strategic locations worldwide and a comprehensive network of customer service engineers, project managers, and training and service technicians, we can rapidly dispatch the expertise, parts, and replacements.