Learn how we mapped a display that has almost a million surfaces
Amidst the bustling halls of InfoComm China 2023, one exhibit at the Christie® booth stood out above all others: a mesmerizing projection mapping demonstration on a 3D printed wall, 6 meters wide (19.5 feet) by 2 meters high (6.5 feet). This awe-inspiring display showcased breathtaking imagery of ancient Chinese architecture and deities, leaving visitors spellbound. Delving into the creative process and cutting-edge technology behind this masterpiece, we take you on a journey behind the scenes to discover the magic that brought this fascinating showpiece to life.
Evolution of innovation
This awe-inspiring projection mapping spectacle represents the evolution of Christie Mystique™, an automated camera-based alignment and recalibration solution that enables users to quickly install, align, calibrate, and maintain multi-projection systems.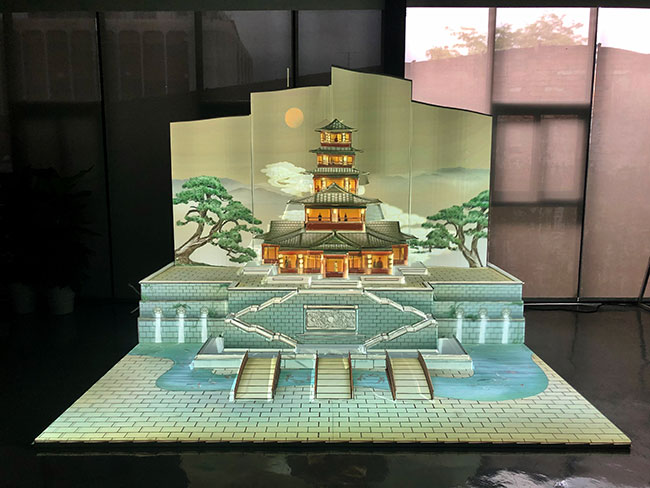 Mystique first dazzled audiences at InfoComm 2016 with its transformative capabilities on the Christie wolf head. Back then, the software's auto-calibration feature enabled image configuration, alignment, warping, and blending on up to 250 surfaces within minutes – a groundbreaking achievement.
Building on this success, the Christie China team accomplished an even more ambitious projection mapping feat in 2021 using Mystique on a 3D model of an ancient Chinese tower, measuring 3 meters (10 feet) in length by 2.5 meters (8 feet) in height, with 8,500 surfaces. It was lit by 1DLP® laser projectors.
Now, at InfoComm China 2023, the team pushed the boundaries further by projection mapping on an even larger model with close to a million surfaces.
A vision takes shape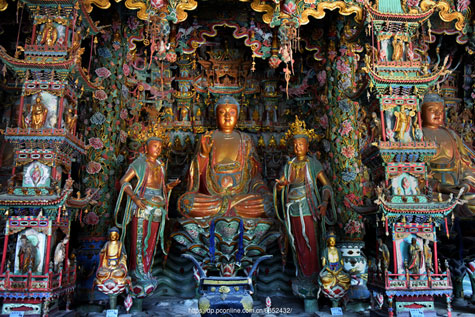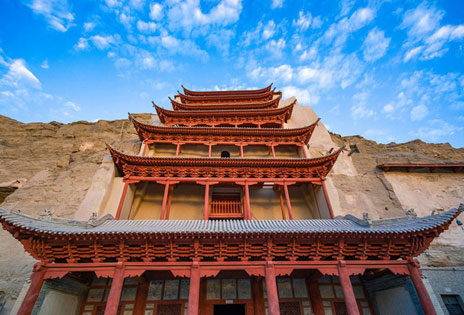 This visionary undertaking began over a year before the trade show, with concept creation and art direction inspired by representative Chinese paintings, sculptures, and architecture that date back thousands of years.

We engaged a local artist to skillfully combine these reference materials to create the original sketch of the 3D wall, which was then transformed into a three-dimensional conceptual model with depth.
Precision and artistry unite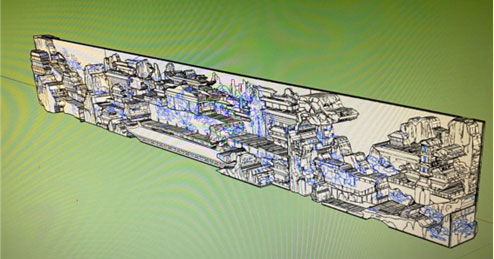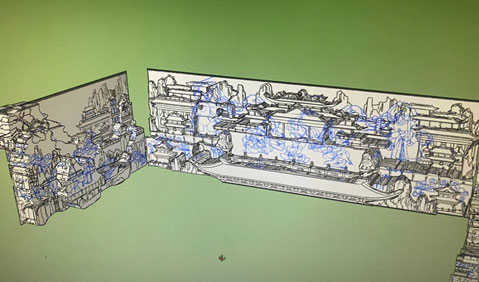 At the heart of this creative endeavor lies the perfect union of precision and artistry, meticulously shaping every detail on the surface. Given the complexity of the projection mapping, the Christie China team devised a novel approach to content creation to ensure the accurate mapping of all elements onto the elaborate 3D-printed wall with 800,000 surfaces.
Throughout the process, the team skillfully "split" these 800,000 surfaces into distinct sectors within the model itself, enabling the creation of independent animations for each sector. This careful approach delivered an incredible visual experience because we were able to ensure an astonishingly high resolution of up to 8K.

The team derived material details from the high-precision computer-generated model, meticulously reproducing dynamic elements based on the playback files that encompassed intricate details and uneven surfaces.
Breathing life into the wall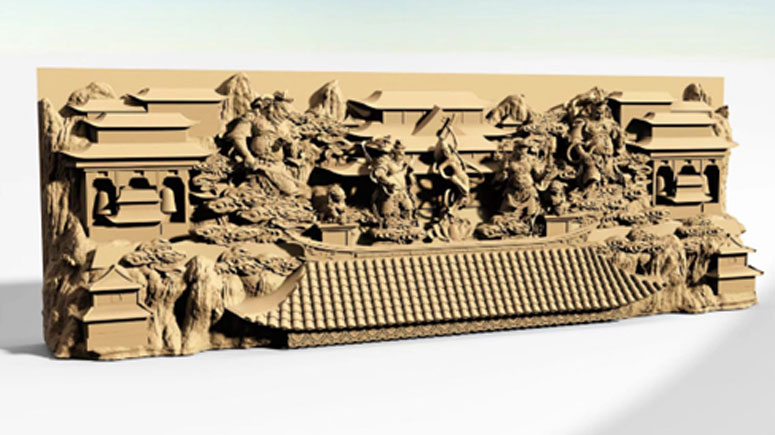 The culmination of artistic mastery and technological innovation came alive when we projected content onto the fully complete 3D printed model. Christie Mystique's magic was once again at work, achieving geometric correction and edge blending on intricate surfaces, while the Christie Pandoras Box® media and show control systems facilitated real-time editing of the sequence frame animations at resolutions of up to 8K and playback at 60 fps. The results were astonishing.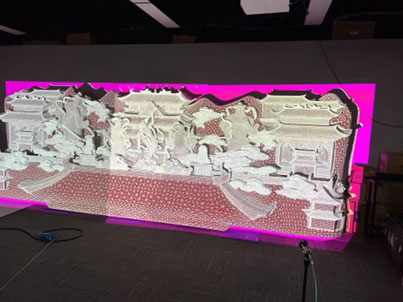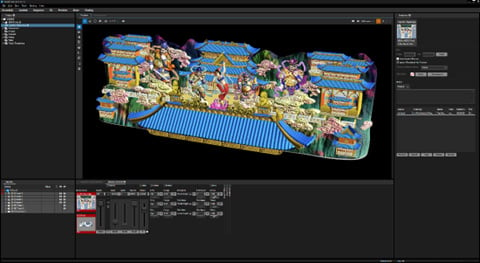 According to Steven Sheng, senior technical and service manager for Enterprise China, Mystique accomplished the alignment and calibration process for this unique wall in just 15 minutes. This remarkable speed is in stark contrast to the days or even weeks it would take to manually calibrate the content – and wouldn't include Mystique's precise alignment.
The perfect projection system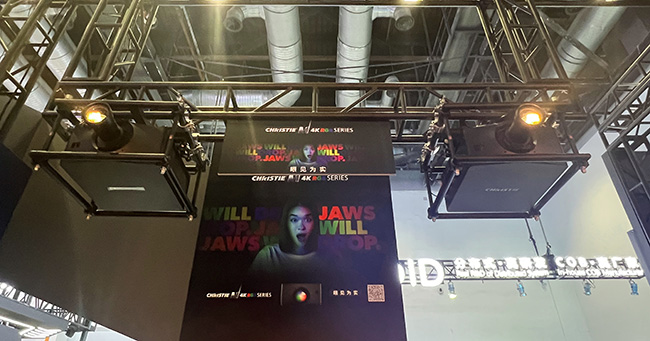 The Christie team used two Christie M 4K+25 RGB pure laser projectors to bring this display to life, with each projector boasting a brightness of 25,300 lumens. These projectors were ideal for the task since they were able to display a wide color gamut of up to 98% of the Rec. 2020 color space, ensuring remarkable color accuracy. The cutting-edge Christie TruLife+™ electronics platform with "all-in-one" connectivity further enhanced the seamless experience, making it easy to switch inputs whenever and wherever needed.
M 4K+25 RGB projectors offer additional features that contributed to the success of this spectacle. Electronic Color Convergence (ECC) allows you to individually select and remotely blend red, green, or blue, which provides unparalleled control over color accuracy. And Christie's proprietary LiteLOC™ technology ensures that displayed images remain flawless, even in challenging environmental conditions.
Beyond imagination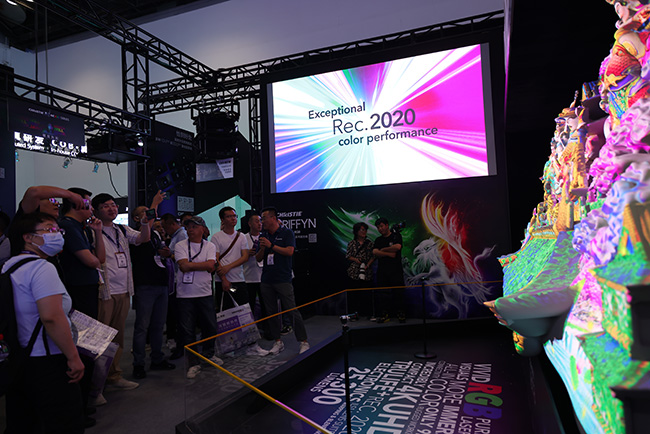 Christie's captivating projection mapping demonstration on the 3D printed wall left a lasting impression on visitors and industry professionals alike. This seamless blend of artistry and technology showcases the limitless possibilities of projection mapping and reaffirms Christie's position at the forefront of innovation. As we look ahead to future displays, we eagerly anticipate the next chapter in the evolution of projection mapping, where creativity and ingenuity continue to inspire and mesmerize audiences worldwide.