What if content could look as good throughout a projector's operational life as it did on day-one?
What if we could automatically maintain color balance and brightness over time, and regardless of fluctuations in ambient temperature? And what if this technology came factory-calibrated in your RGB pure laser projector?
With Christie® LiteLOC™ technology, the question isn't 'what if' it's 'how'. Let's look at how LiteLOC works.
Laser power control
The power level that lasers are driven at has a big effect on the lifetime of the laser diode. The result of excessive drive current will initially appear as optical damage on the microscopic reflective surfaces that exist at the ends of the laser diodes. The performance of the laser cavity gradually decays, resulting in a negative impact on the laser's efficiency. Lasers require additional power to maintain initial brightness levels as they age. So, what does that mean for your projector?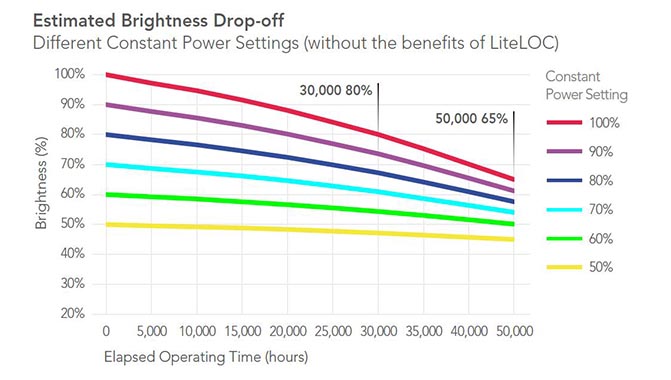 The graph above shows the laser output degradation for six different constant power settings.
If your projector is set to 100% constant power, then its initial 100% brightness will degrade to 80% at 30,000 hours of operation. If the same lasers are used at a lower initial power setting, the brightness output decreases at a slower rate and increases its longevity. With Christie RGB pure laser projectors, our renowned LiteLOC technology has innovative algorithms that can control power settings maximizing brightness output over a longer lifetime.
What is LiteLOC?
Christie LiteLOC technology senses light output and adjusts laser drive power for constant light output while always maintaining white-point accuracy.
Brightness 'headroom' is important to consider when selecting a projector that can accommodate light level requirements for a specific screen. LiteLOC uses this headroom to compensate over time for aging lamps or lasers. The graphs below illustrate how starting the laser at less than its maximum power can improve its ability to maintain brightness longer. A typical cinema application with about 20% headroom where you start at about 80% power setting should maintain that initial brightness level for at least 50,000 hours with proper environmental controls. Environmental controls include maintaining the recommended booth ambient temperature and humidity along with a clean, dust-free environment.
The following graph shows some of the different initial power settings and how LiteLOC can maintain brightness before reaching the lifetime limit condition.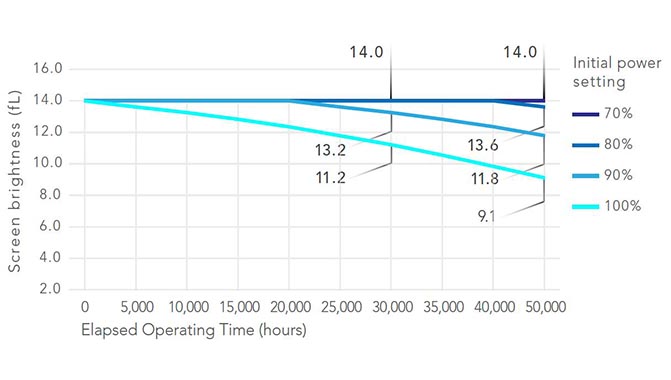 Maintaining brightness: Starting at different power levels, using LiteLOC to maintain brightness
Set it and forget it
In Christie's CineLife+ Series projectors, LiteLOC™ automatically calculates the maximum allowable ambient temperature of the machine based on the operating power set by the user. The reference basis for this calculation helps customers control up to 50,000 hours of laser operation life.
As you can see in the following 2 figures, when the power is set higher, the allowable temperature conditions are more severe. When this happens, LiteLOC gives you a clear auxiliary prompt to control the temperature of the room. When the ambient temperature monitored by the sensor exceeds the temperature threshold, LiteLOC automatically adjusts the laser operating power to ensure laser performance and maintain a long life.
LiteLOC automatically maintains color and brightness throughout your all-in-one RGB pure laser projector's operational life for years of stable, virtually maintenance-free operation.