Press releases
In the news...
Media resources
Use the resources below and gain quick access to key company information to help you write stories about Christie (thank you!). Need great installations? Click on Customer stories to find some of our best partner and integrator implementations using Christie solutions.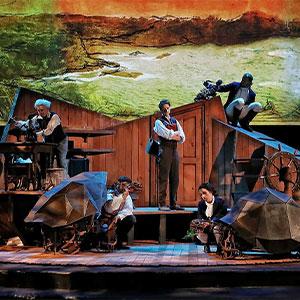 Christie AVenue is our quarterly e-zine covering current events, thought leadership, AV and Cinema industry news and other interesting topics – all told with a non-technical voice.
Subscribe to receive each issue so you don't miss out.
Where puppets and projection come alive —Dead Puppet Society
(Photo credit: Prudence Upton)
They are Australia's most accomplished puppeteers, but this is no seaside show. Dead Puppet Society employ projection and puppets to tell big stories at scale, so AVenue spoke to David Morton, their creative director, to find out how it was done and why the childlike chimes with everyone. Read the full story
Public relations contacts
Carmen Benyair

Senior Manager, Global Public Relations

Kitchener, Ontario, Canada

519-593-3588

Carmen.Benyair[at]christiedigital.com

Deborah Noon

Senior Public Relations Specialist

Kitchener, Ontario, Canada

519-749-3109

Deborah.Noon[at]christiedigital.com

Tsung Yi Chan

Public Relations Manager, Asia Pacific

Singapore

(65) 6877-8793

Tsungyi.Chan[at]christiedigital.com
Christie's PR representatives in EMEA, Russia, Latin America and Mexico can be reached by emailing PR[at]christiedigital.com