Small spaces have unique requirements. Let's look at projectors that are best suited to the job.
Whether it's a classroom, boardroom, or huddle room, these spaces have unique AV requirements, and choosing the right projector for the job is paramount.
When space is limited, you need a compact, quiet projector that can be mounted close to your screen. Let's look at the advantages of projectors in these spaces, and some features to consider.
Economy of space
If you're looking for a projector for a small space, then you're likely looking for a model that's as compact as possible.
An ultra short throw projector can project large images from a very short distance to the screen. They can typically be ceiling-mounted inches away from the screen, save valuable floor or tabletop space, and display images over 100 inches diagonal in size.
Ultra short throw lenses, which can be used with compatible projectors, can display even larger images – up to 600 inches diagonal.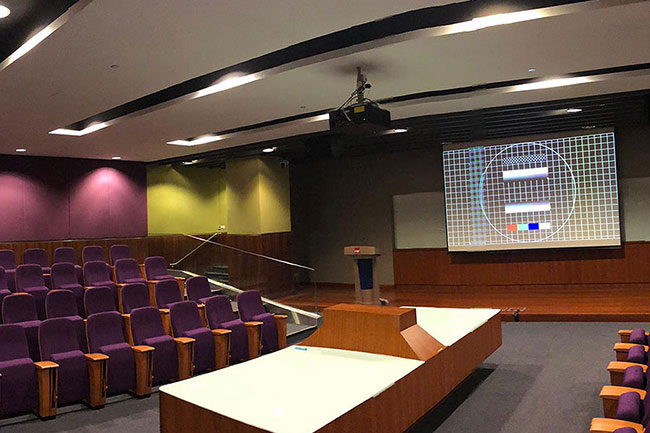 Lasers, not lamps
When you're shopping for a projector, consider the illumination source. Laser — also referred to as solid-state illumination—has now effectively replaced lamps as the preferred light source in ProAV projectors.
Laser projection offers many benefits over lamps: incredible color reproduction, high efficiency, low maintenance with no lamps to change, instant on/off, and long life. Laser projectors are commonly rated for 20,000 hours to 50% brightness, making lamp replacements a thing of the past.
Sharp images
In a small space, your audience sits much closer to the screen than in a larger venue. And for that reason, they're more likely to see any pixelation in an image. This increases the importance of choosing a projector capable of displaying high-resolution images like 4K UHD.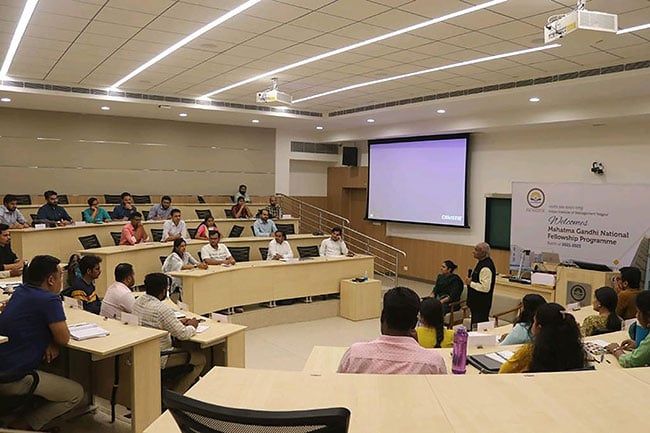 Projectors that are easy to use
When choosing a projector for your space, ease of use should be top of mind. A range of easy-to-use features includes instant on/off, standard signal inputs and outputs like HDMI and VGA, and compatibility with networking software for enhanced collaboration and easy integration into boardrooms and meeting spaces.
Next steps
If you're considering a projector for your smaller space, here are some tips to help you choose:
How much ambient light is in the room? Spaces with more ambient light may need a higher-brightness projector.

Where would you like to install your projector? Will it be ceiling-mounted with an ultra short throw lens? Or a little further away from the screen?

How big is your screen? A larger screen may require a higher-brightness projector or a different lens.

What features are essential to your project? Easy on/off could be important to a classroom installation, while a meeting space may prefer Crestron or AMX connectivity.
Despite their smaller footprint, projection solutions for compact spaces can pack a big punch. And Christie has solutions designed for spaces including classrooms, meeting rooms, and huddle spaces, including our Captiva ultra short throw laser projector, Inspire Series, and GS Series laser projectors – all of which offer premium performance, professional features, and low maintenance.