Meet 3dsense, the studio behind a recent interactive exhibit at Prague's Signal festival
Photos copyright Marek Volf / 3dsense
From October 12-15, Signal 2023 transformed buildings and scenery throughout Prague with art – from light design and visual artwork to AI-created content. Seventeen artists participated along a 5 km (3 mile) route in the city.
We were at the event, supporting artists with our ProAV solutions and technical know-how. We caught up with 3dsense, a Czech Republic-based studio, to learn about their exhibit, Signal Playground: Rainbow.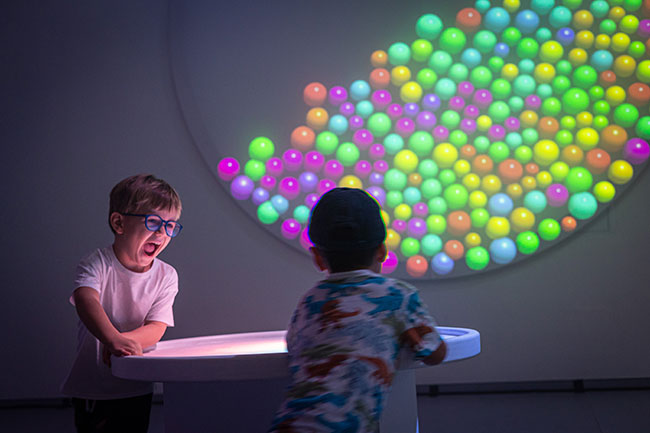 Tell us about Signal Playground: Rainbow.
Rainbow is an interactive exhibit and the first installation designed specifically for children at Signal. The rainbow and its characteristic color gradient are the main visual theme and inspiration.
The exhibition consists of several different exhibits that invite exploration through interactivity. It appeals to children, but its sophisticated and intense visuals also attract adults.
Visitors freely wandered through the installation space, and let themselves be carried away by their own space-time and fantasy world.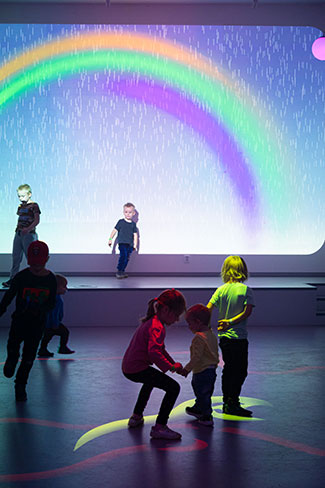 Did you have a specific aim or goal with the project?
The aim of our exhibition was to create a playful environment in which young visitors could freely explore and have fun. It was primarily aimed at children between the ages of two and 10. Everyone set their own rules in the environment on how to play with the different installations.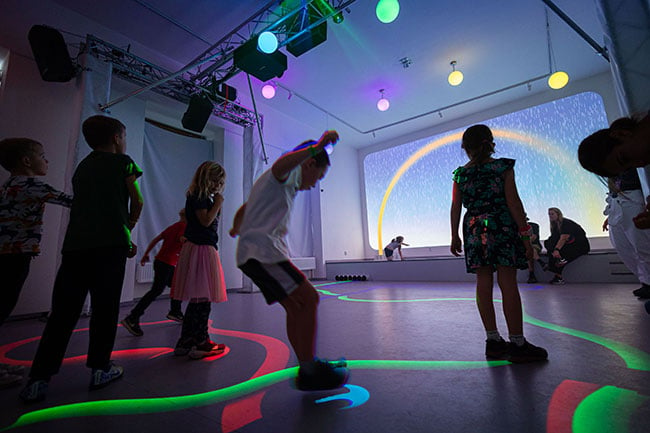 How do you use Christie projectors in Rainbow?
We used four Christie 4K10-HS projectors for two interactive pieces.
We used one projector to light up a round 3-meter (10-foot) screen where children could see how interaction with a physical object [a floor-mounted round table in front of the screen] affects the animation in real time.
We used the three projectors for the biggest piece, which was an interactive floor where children could step on animated spots that then became part of the rainbow on the front wall [of the space]. We also used ultrawide lenses on the projectors so we could cover as much of the floor as possible.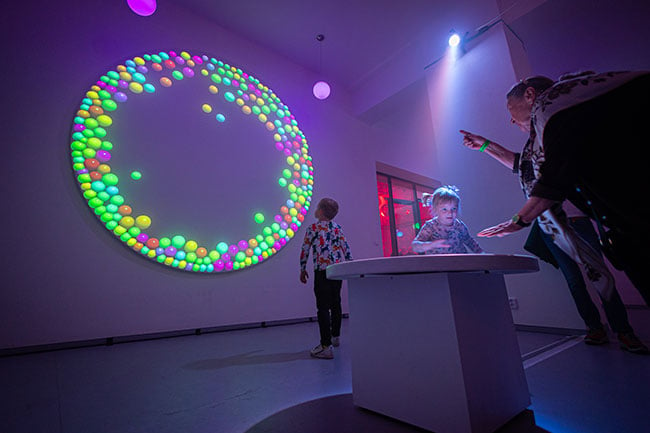 Could you tell us about 3dsense and the team responsible for Signal Playground: Rainbow?
3dsense is a creative studio that combines art and modern technology. We love to create unique interactive installations.
The Signal Playground team was made up of the art director Josef Lepša, who came up with the idea and visual form, sound designer and programmer Jiří Rouš, programmer Michal Vrba, production managers Marek Volf & Natalie Krausová, and our big crew of our wonderful suppliers!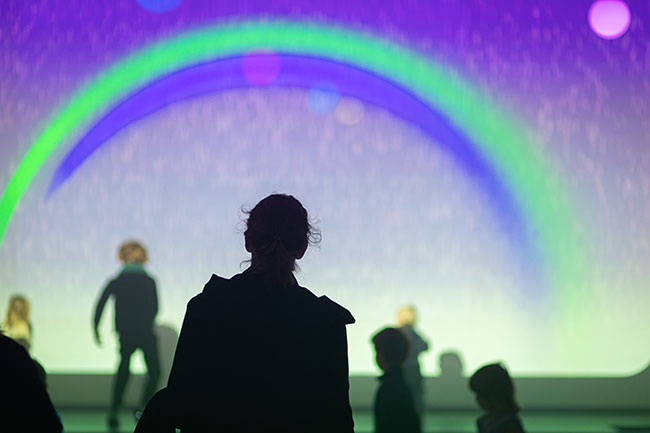 What type of projects does 3dsense specialize in?
Our work includes light installations, large-scale projections, video mapping, museum exhibitions, scenography, and VR and AR applications. The studio collaborates with international entities and cities and regularly participates in international festivals, including Lux Helsinki and White Night Melbourne.