We pull back the curtain on AV technology for live events
From the biggest music festivals like Coachella and Glastonbury to A-list pop stars touring the globe, live events have the power to engage audiences and deliver memories that last a lifetime. And as the pandemic recedes from view, live events have exploded in popularity and touring companies are reporting record attendance (hello, Swifties!).
But delivering the stunning shows that audiences expect – the lights, dazzling displays, and all-encompassing sound – takes a village working furiously behind the scenes to create magic on stage.
We're pulling back the curtain to discuss some of the technology, including media servers and software, that enable live events with Christie product manager Thomas Mrozek.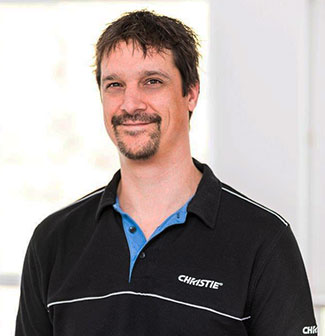 An end-to-end solution
Delivering spectacular content at precisely the right time, day after day, is no small feat. So having the right reliable technology in place is essential, says Mrozek.
"It's the most crucial element," says Mrozek. "In live events, there's no time to manage technology that's not performing as expected."
AV solutions that are designed to work together to create seamless and reliable workflows, while enabling stunning visual displays, are crucial to successful events.
Audiences may not know which technology is behind the magic - RGB pure laser, laser projection, or LED video walls - but the show that it creates for them is still unforgettable.
RGB pure laser projection creates deep, saturated colors, which achieve greater than 98% of Rec. 2020 color, the color gamut closest to what the human eye can see. The newest 1DLP® projectors output up to 22,500 lumens for brightness and color accuracy that approaches 3DLP projection. And you can easily pair projectors with media servers via AV-over-IP systems, like Software Defined Video over Ethernet (SDVoE), for a robust content management and delivery solution.
LED is becoming increasingly popular in live events, from corporate presentations to concerts. Enabling seamless content delivery to these high-performance walls is essential. "Large LED video wall installations, which can exceed 8K resolution, require frame sync capabilities," says Mrozek. Frame sync, which is driven by the media server through the graphics card, ensures that the content is synced to the refresh rate of the display.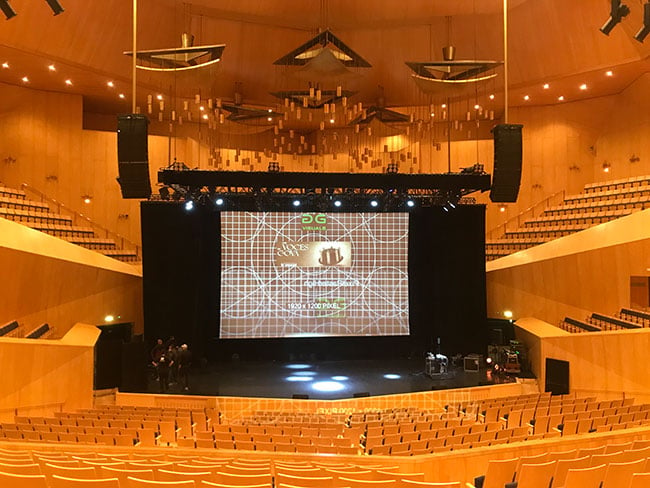 "Large LED walls require uncompressed video playback with 10-bit color space, and frame rates up to 240 frames per second," adds Mrozek. Selecting a media server solution that can handle these demanding specs is essential to a successful show. "Ultimately, whatever displays you use, be it projectors, monitors, or LED video walls, Pandoras Box can directly control them."
"Pandoras Box works with visual display solutions to create the spectacles audiences expect, and the seamless workflow operators require," says Mrozek. "We're seeing media servers used as part of a complete source-to-display solution. The advantage of this type of solution is the ability to maintain the quality throughout the signal path, sending the highest quality signal to the display."
Servers and software
Pandoras Box Servers, our show-rendering and control hardware, provide the power to play back high-quality content. And Pandoras Box Software Version 8.8, is a powerful tool for show set-up. "Creators use Pandoras Box Software for show control and to bring all the elements of a show together, including lighting, audio, special effects, and content, and to ensure that the display technology outputs a perfect image," says Mrozek.
When asked about the key features that customers love about Pandoras Box, Mrozek pointed to the timeline, which allows users to playback videos and images, and create triggers. "Triggers allow operators to schedule events, like lighting, pyrotechnics, and content, to happen during a show."
AV solutions that are designed to work together to create seamless and reliable workflows, while enabling stunning visual displays, are crucial to successful events.
In live events, the setup has to be quick, and you may just have one day for the build and the next day is the show. And the image has to be perfectly aligned and positioned on the screen. Whether using an LED video wall or projection, the preview feature in Pandoras Box allows users to manipulate the image at the pixel level quickly.
The new Workspaces feature, which was previewed at InfoComm 2023, allows users to input pixel values to quickly see exactly how content lines up with the display. This is crucial especially for LED displays, since audiences can easily see even slight misalignments.
Tying it all together
Whether you need to deploy pyrotechnics at a certain time in a show or want water fountains to perform a choreographed 'dance', Widget Designer works with Pandoras Box to trigger multiple elements of a live event. "Widget Designer provides enhanced show control – it's really a hub. It also can handle any incoming tracking values, as well as interactive elements and gesture control."
And with distributed shows and events – those that either take place in different locations at the same time or across multiple locations – ensuring that content and show elements are in sync has been a particular pain point for producers.
"In live events and broadcast environments, you always have one master clock. The whole studio and even multiple or remote studios use the clock to ensure that all elements are in sync," explains Mrozek. But with Pandoras Box, "we take this clock into the render engine and make sure that we provide the correct image for the correct frame everywhere, at precisely the right time."
A flexible solution
When Pandoras Box was developed in 2003, the idea was to create a flexible platform to give operators a way of working that best suited them.
And with Pandoras Box Software, it's become even more so. "You just have to count your outputs, then you know how many licenses you need – plus one for control," says Mrozek. And the licenses are portable, so they're not tied to a single project or event.
From corporate events to live concerts and shows of all kinds, Pandoras Box is a single solution that can tackle it all. "It's a reliable, powerful, scalable, and budget-friendly solution," says Mrozek. "We're always working to grow and evolve Pandoras Box."