The technological developments that are propelling the movie-going experience forward
Think about the first movie you saw in a theatre. The smell of popcorn, the sound of the arcade machines pinging in the background, and an afternoon spent in a darkened theatre with your closest friends or family – it was an unforgettable experience that leads many of us to return again and again.
From the trailers to the credits, Christie cinema solutions enable the magic that happens on screen. Let's look at a few key technological developments that are propelling the moviegoing experience forward to deliver bigger thrills, more immersive worlds, and heart-stopping drama.
We ❤ theatres
We've been in business for almost 95 years, and our cinema heritage dates back more than 65 years. We have more experience engineering and manufacturing projection solutions than almost any other company. And it's our love of cinema that propels us to create innovative and reliable solutions that deliver memorable moviegoing experiences while meeting the needs of theatre operators.
With the introduction of RGB pure laser illumination, we've broken new ground in contrast, color, and total cost of operation. It's the most recent and modern advancement in projection technology.
Christie's Real|Laser illumination platform uses RGB pure laser to deliver more than 95% of the Rec. 2020 color gamut to screens, which exceeds DCI standards. This color gamut is closest to what the human eye can perceive, so colors look natural and life-like on screen.
RealLaser achieves the highest contrast possible, 6,000:1, because of its unique optical design. The result is images that are more detailed and sharper, for a more immersive moviegoing experience.
With the introduction of RGB pure laser illumination, we've broken new ground in contrast, color, and total cost of operation. It's the most recent and modern advancement in projection technology.
RealLaser projectors can run for 50,000 hours based on standard use, eliminating the need for lamp changes and the worry about phosphor degradation. They're also incredibly energy efficient – up to 32% more than the competition.
Audio solutions
We love creating beautiful images on screen to enhance the audience's experience, but we've also invested in elevating the experience with a dynamic and enveloping sonic experience.
Audio solutions should deliver a smooth and referenced soundscape as intended by the film's director. It's not just the theatre-shaking sounds of explosions and car chases, but it's also the clarity of whispers and pin drops. A great audio experience also provides uniform delivery, which means that every seat in the theatre experiences the same sound.
Christie Vive Audio® cinema audio systems combine our unique and patented planar ribbon drivers, line array speaker design, and Class D amplification into single cabinet speakers for an unmatched sound experience.
Our screen channel loudspeakers, with line array technology, place sound exactly where it's needed through wide horizontal and highly controlled vertical dispersion patterns. This increases the size of the optimal listening area by up to four times compared to conventional cinema audio systems.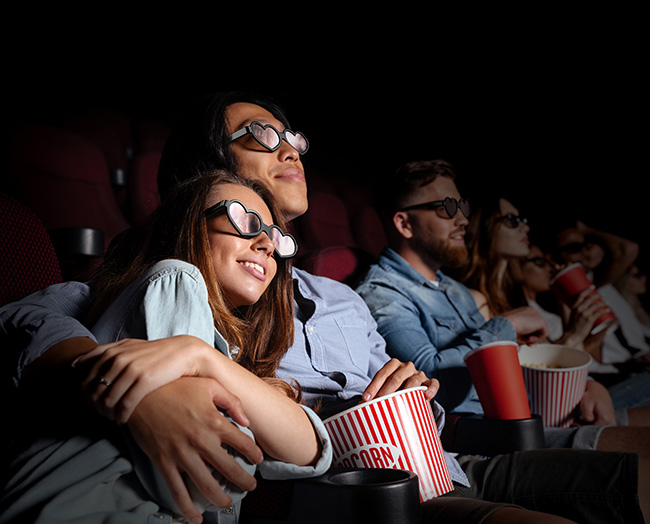 We use planar ribbon drivers as the foundation of our loudspeaker design to deliver high-fidelity audio with clean impulse decay that doesn't mask the fine detail of the audio signal. This avoids the low-resolution, ringing noises, and delayed resonance that can occur with compression or dome drivers.
Our technology, combined with theatre design, ensures an adequate amount of headroom for distortion-free sound, to create an audio experience that can't be duplicated at home.
Software and support that loves cinema
We've talked about our innovations in projection and audio but ensuring that cinema technology performs as it should is a critical piece of delivering a memorable moviegoing experience for guests.
Our Professional Services team is one of the industry's most trusted service providers, working globally to design, deploy, and support cinema solutions. We work with theatre owners and operators to customize service and support packages to prolong the life of your cinema technology.
With Christie's NOC (network operations center) and Cinergy, our remote monitoring and management software, technicians help keep equipment running 24/7 by spotting potential issues before they impact operations and arranging for onsite service and repairs as needed.
Creating an exceptional experience
Our technology is developed by people who love cinema. Whether it's enabling a director's vision or supporting the latest global blockbuster, it's the magic of the on-screen experience that gets us every time.