Why the film industry prefers the CP4450-RGB
Projection technology often exists behind the scenes in the film industry, literally and figuratively.
Most moviegoers aren't likely familiar with the illumination technologies that put bright, vibrant images on the screen. And the same can be said of frame rates. Often, we see films in theatres at 24 frames per second (fps), the standard cinematic frame rate, and it's only when they tick upwards do we notice.
However, the crews that work behind the cameras – the directors, producers, and post-production professionals – often have a preference for a particular projection technology, whether it's the die-hard 35mm aficionado, the colorist that favors the DCI-P3 color gamut, or the director that moves the needle with higher frame rates, enhanced contrast, or 3D.
This technology helps them tell stories, realize their vision, and propel their audiences into previously unseen worlds.
Enter a new type of cinema projector
Christie has a long history of working with the film industry, and its directors are no exception. We worked closely with Taiwanese filmmaker and three-time Academy Award-winner Ang Lee — who directed many blockbusters including "Life of Pi" "Hulk", and "Crouching Tiger, Hidden Dragon" — to support his vision for a pioneering large-format projector that could showcase "Gemini Man" in 3D, 4K resolution, and at a high-speed frame rate of 120 fps.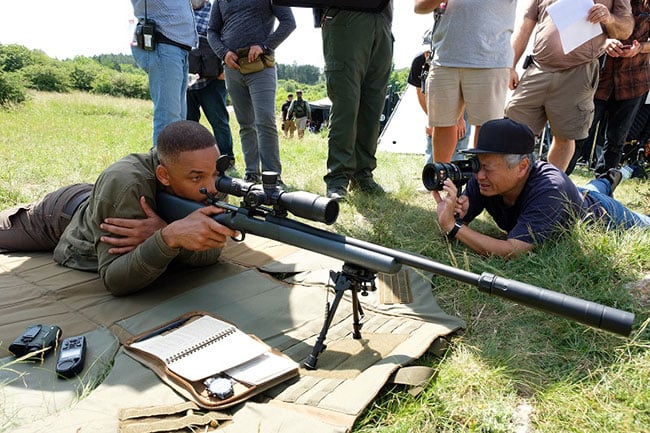 Designed in 2018, the CP4450-RGB was different than anything else on the market, with features that combined to light up movie screens in a new way, for a moviegoing experience that was unlike anything that came before it.
A brief history of projection illumination
The evolution of our RGB illumination technology was at the heart of bringing Lee's vision of a large-format projector to fruition.
The first generation of RGB pure laser projectors weren't much more efficient than Xenon due to multiple large laser devices that had to be coupled and inefficient cooling. And the projectors themselves weren't budget-friendly, typically costing more than ten times as much as equivalent lamp-based projectors at the time.
It was clear that the door to the next-generation PLF experience had been opened. Ultra-wide color gamut, high dynamic range, and high frame rates had now entered the mainstream.
Enter the second generation of RGB laser projectors. Gone are the large footprints of laser devices, now replaced by multi-pack devices (MPD). MPDs are robust, compact, solid-state laser banks made up of individual emitters in a matrix specifically tuned to accurately reproduce DCI content. With Enhanced Wavelength Diversity (EWD), each MPD features a special configuration of laser diodes that increases the power density multiple times over.
The result? Efficient cooling, efficient light coupling, and up to three times the efficiency of a Xenon lamp-based projector.
A look inside
To bring Lee's vision to life, we built our illumination technology, electronics, and software into the CP4450-RGB.
The CP4450-RGB is an advanced format cinema projector that features Christie RealLaser™ technology for screens up to 111 feet (33 meters) wide. It's equipped with dual-laser optical systems (LOS) and high-speed CineLife+™ processing electronics capable of 3D 4K 120fps playback that create a sense of realism on-screen. Coupled with brightness up to 55,000 DCI lumens, sequential contrast that exceeds 5,500:1, and an ultra-wide color gamut for real-life colors, it can project films as filmmakers intend them to be shown.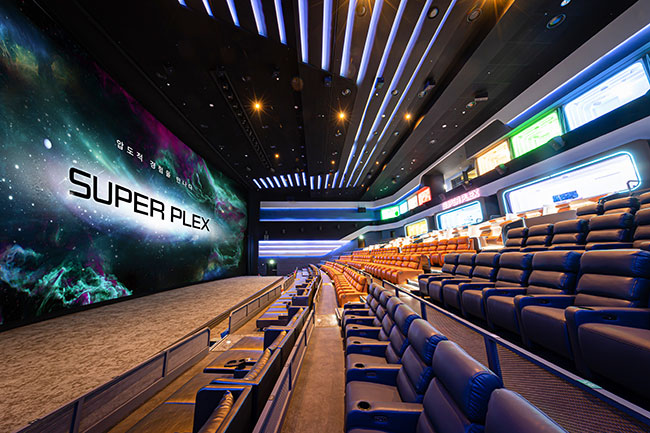 A red-carpet debut
In 2019, the CP4450-RGB made its debut as part of HuaXia's premium large-format (PLF) cinema system, CINITY, and Lee premiered "Gemini Man" using the system in a never-before-seen format of 3D 4K 120fps per eye. To say this new format sparked a conversation amongst cinephiles and technology buffs would be an understatement.
It was clear that the door to the next-generation PLF experience had been opened. Ultra-wide color gamut, high dynamic range, and high frame rates have now entered the mainstream.
With this new technology, cinemas can deliver an exciting, immersive, shared experience. And that's worth leaving the house for.
[Editor's note: The Christie CP4455-RGB recently replaced the CP4450-RGB and offers the same features and form-factor as well as more brightness, upgraded electronics, and improved energy efficiency.]