Unleash your creativity and design outside the box with Christie® MicroTiles® LED. The small, proprietary, cabinet-free Click-n-Go™ LED tiles can be arranged in near-limitless ways while the innovative ADA-compliant QuickMount™​ system lets you build your display in virtually any shape or size. Take advantage of 90-degree corners both inside and out and concave and convex curves.
Powerful processing including 12-bit input sources, 4K@120Hz, HDR10 compatibility, and up to 16-bit grayscale with up to 4-bit integrated i​mage processing results in unmatched performance that will meet your needs today and into the future.
The Christie Link E1000 video wall controller delivers a robust, flicker-free and uncompromised Active 3D experience to MicroTiles® LED. With advanced web UI for configuration/control, supporting up to 12-bit video sources, only one controller is required for a 4K wall that helps in reducing system costs & complexity. This high-end display application is designed to enhance visualization and collaborative design processes when combined with our MicroTiles LED models.
Christie MicroTiles LED HD video wall packages
Our Christie MicroTiles® LED packages include everything you need to integrate a seamless, stunning, HD-resolution video wall in your space.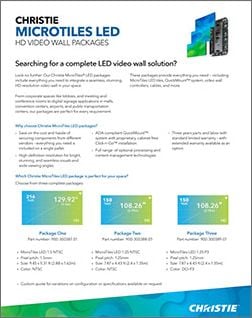 Spec your video wall with the LED designer
With just a few clicks, you can design a wall for your space, create a simple reference diagram and generate a bill of materials so you can order everything you need.
Discover the truly limitless design freedom of MicroTiles LED with Shawn Mills