Factors to consider when choosing between LED and LCD video wall technology
Many people know Christie for our projectors – which makes sense, we've been manufacturing projectors for almost 65 years – but we also specialize in video wall solutions. We manufacture secure, TAA-compliant LED and LCD video wall displays, and content management and processing technologies to create complete AV solutions. We help partners and customers around the world determine the best video wall solution for their projects, whether it's a mission-critical control room, a stunning lobby installation, or an engaging retail display.
So how do you know what video wall technology is right for you? Should you choose an LED video wall or go with LCD?
Let's look at the factors you need to consider and the advantages and drawbacks of different direct-view display technologies for each.
Brightness
Brightness requirements vary, so the key is to find the right amount for your application and space. You'll need higher brightness to improve overall contrast in environments where ambient light is high – such as rooms with walls of windows. However, if people work close to the video wall, for example in some control rooms, too much brightness can cause headaches or eye strain over time. On the other hand, if the wall isn't bright enough, the contrast will likely be too low, making it difficult to discern detailed images and text on the wall.
If you start with a higher brightness display, 700 nits up to 1000, you can reduce brightness to an acceptable level for the ambient light in your space. This has several benefits, including:
Power efficiency – Running a 700-nit panel at 500 nits draws less power than a 500-nit panel at 500 nits

Extended life – Running at reduced power lowers the thermal profile on the display, extends the life of the LEDs or LED backlight, prevents failures, and reduces cooling requirements

Improved black and low-level gray on LCD panels
LED video walls can display content clearly even in high ambient light environments. This is thanks to the high brightness typical of LED tiles and high contrast ratios. The result is an outstanding perceived level of black that results in a high-contrast image even in elevated levels of ambient light.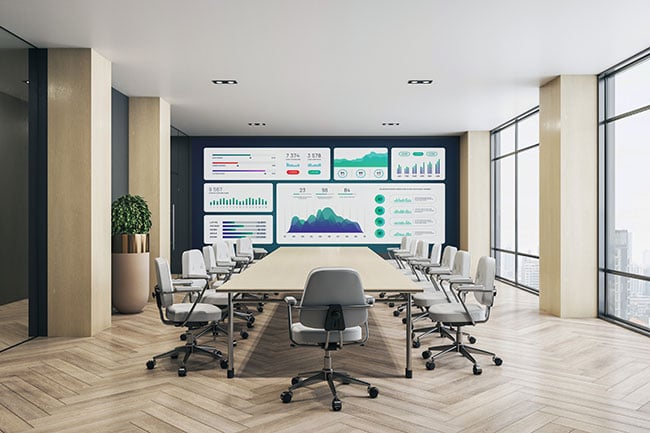 Seamlessness
For a greater viewing experience, a video wall display should be completely seamless so that viewers don't notice the transition from one screen to the next in a tiled array.
LCD panels minimize this transition with bezels that are less than 1mm. For large video walls, where viewers are typically three meters (10 feet) or more away, we can consider any gaps, in combination with the bezel, as negligible. Near-seamless LCD panels can be fragile to handle – but you can overcome this by having trained professionals build your wall.
By contrast, best-in-class LED tiles are truly seamless and are designed to touch each other without increasing the distance between the pixels from one tile to the next. They include direct-mount systems with advanced mechanical design integrating x, y, and z-axis' to fine-tune physical adjustments for near-perfect alignment. Advanced software capabilities should include automatic seam correction to further enhance the seamless image quality.
Image quality
Your content should look brilliant on a new video wall system, but will it maintain that same level of performance over time?
If factors such as color uniformity, brightness uniformity, and imaging quality aren't your highest priorities, then LCD panels may be the best and most cost-effective solution – especially if your application doesn't require 24/7 operation.
However, if image quality is paramount, LED displays might be the best choice. Best-in-class LED walls offer advanced capabilities that optimize the image and automatically maintain color uniformity and brightness over its lifetime.
Viewing distance
The optimal viewing distance is the point where the viewer can no longer distinguish individual pixels. For LED, we calculate viewing distance by multiplying the pixel pitch (mm) by 8. For a pitch of 1.25mm, the optimal viewing distance is 10 feet (1.25 x 8). While tiled LCD solutions can achieve a pixel pitch as small as 0.37mm, making close-up viewing possible and viewing distance a non-issue.
Initial cost vs. total cost of ownership (TCO)
A big benefit of LCD panels is their low initial price. LCD panels can be a fraction of the initial cost of an equivalent LED-based system. Although operational lifetime is lower and there are other performance compromises, LCD panels could be the most appropriate solution for an application with a tight budget.
A video wall forms a complete and integrated solution when it's combined with content management and processing technologies.
All displays consume power and require cooling – so you need to consider ongoing operational costs such as power consumption and heating, ventilation, and air conditioning (HVAC) – but not all display technologies are the same.
LED displays generally draw more power and require more HVAC than LCD displays. However, LED video walls are more energy-efficient than LCD panels. The difference in efficiency can be as high as 400% or more, depending on which displays you compare.
Complete solution
A video wall forms a complete and integrated solution when it's combined with content management and processing technologies.
You can directly integrate Software Defined Video over Ethernet (SDVoE) solutions into your video wall for uncompressed, zero-frame latency, artifact-free content over 10G networks.
With the right image processing solution, you can display 4K@60Hz content and scale and position content across synchronized outputs. For environments like control rooms, some video wall processors can securely display, arrange, and operate multiple sources.
Service and support
Best-in-class LCD and LED video walls enable full service from the front to reduce repair time and downtime and don't require special mounts that add cost and complexity. The best systems leverage remote video sources, controllers, and power supplies to simplify maintenance and minimize disruption.
Christie Professional Services is one of the industry's most trusted advisors in designing, manufacturing, deploying, and supporting professional AV display systems, including video walls. With strategic locations worldwide and a comprehensive network of customer service engineers, project managers, and training and service technicians, Professional Services can rapidly dispatch the expertise, parts, and replacements required.
Conclusion
Selecting the right technology for your video wall can be daunting, but we're here to help. We have the experience and expertise to help you choose the right technology, the right content management and processing solutions, and support you with warranty and services for the lifetime of your video wall.
Are you looking for more tips and advice for selecting video wall technology? Check out our tech brief, Discover the advantages of LED video walls.