Nighttime spectaculars draw guests and transform landmarks
Nighttime spectaculars are a captivating fusion of technology, art, and storytelling that bring landscapes, historical sites, and local heritage to life. These large-scale events usually combine various elements such as lights, music, fireworks, lasers, projections, and special effects to create a visually stunning and immersive experience for the audience.
Nighttime spectaculars are known for their grandeur and ability to captivate audiences, and often, as a result, boost local tourism.
Let's dive in and take a look at three extraordinary and inspiring projects.
"Jiuge-Shangui" in Zhangjiajie, China
At the picturesque Jiuge-Shangui scenic area in Zhangjiajie, a city nestled in the Hunan Province of China, natural elements and technology combine in this nighttime experience that is inspired by ancient poet Qu Yuan's "Chu Ci" poetry anthology and the legends of Xiangxi.
Stretching across an expansive five square kilometers (1.9 square miles), the "Jiuge-Shangui" spectacle features live performances staged amidst breathtaking landscapes. And to illuminate this grand spectacle, our partner, Jianye Display, supplied and installed close to a dozen Christie® Crimson WU31, DWU2022-HS, and DWU1612-HS laser projectors.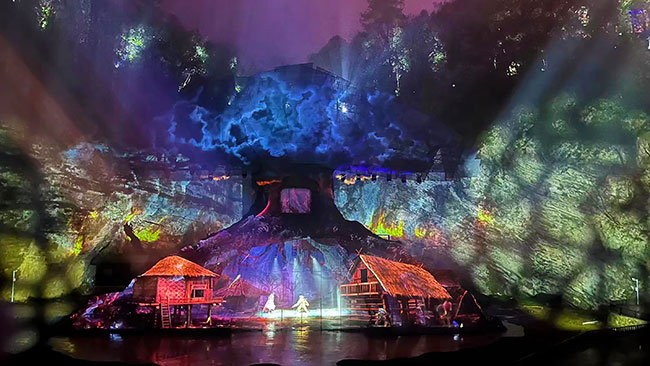 "'Jiuge-Shangui' nighttime spectacular is the first of its kind in the world and features majestic scenes set in natural landscapes such as mountains, forests, sinkholes, and karst caves," said Zhongliang Li, technical director for southern China, Jianye Display.
"As the first large-scale show in the post-pandemic era, we pulled out all the stops to ensure that this massive outdoor spectacle is a great success. The Christie Crimson and HS Series laser projectors, with their rugged design, impeccable performance and dependability, are our preferred choice for this major endeavor."
These high-performance projectors, housed in weatherproof enclosures, deliver vibrant and immersive images at several performance venues interconnected by plank roads. From the majestic Hibiscus tree to the enchanting forest, each site represents the harmonious coexistence of nature and life, vividly brought to life through advanced technologies like 3D projections, lighting, holography, and water effects.
"Jiuge-Shangui" is a unique and remarkable cultural tourism project that elevates Zhangjiajie's status to an exceptional and unforgettable destination.
Nighttime spectaculars deliver unforgettable experiences in often unconventional locations – and the combination of music, lighting, and ProAV solutions that make up many of these projects captivate guests.
"Ambaji Temple" in Gujarat, India
Our next stop takes us to the famous Ambaji Temple situated atop of Gabbar Hill in Gujarat, India. Here, the Gujarat state government and the Gujarat Pavitra Yatradham Vikas Board embarked on a massive endeavor to boost nighttime tourism by creating a mesmerizing light and sound show using projection mapping on the hillside.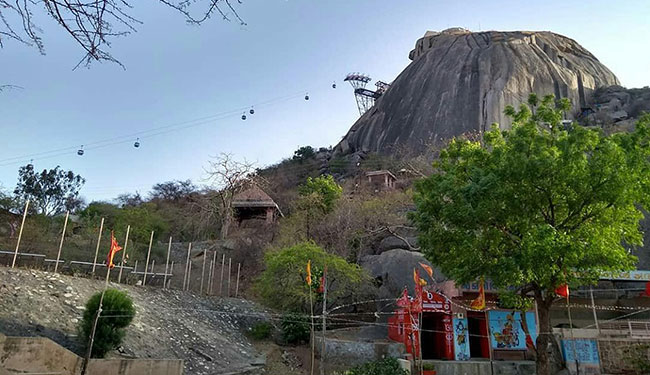 Installed and commissioned by Tricolor India Schauspiel, which has extensive experience in large-scale projects, Christie projectors bring the history and cultural heritage of the sacred Ambaji Temple to life.
Himanshu Sabharwal, creative director, Tricolor India Schauspiel, says, "We have to achieve a projection coverage of 265 meters (869 feet) wide and 68 meters (223 feet) high on Gabbar Hill, which exhibits a dark, dull surface due to environmental conditions. This requires a fleet of high-brightness projectors with unparalleled image quality. The Christie D4K40-RGB pure laser projector fits the bill perfectly with 45,000 lumens and 4K resolution, providing us with vibrant and lifelike images."
Six D4K40-RGB projectors, along with an array of luminaries and immersive sound systems, create an enveloping and multi-sensory experience.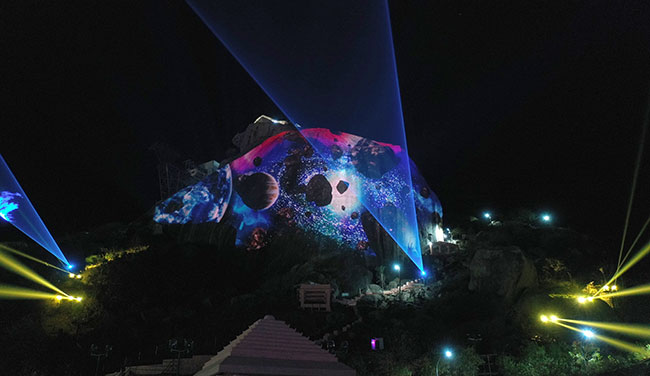 To create the content for the show, the Tricolor team delved into the stories and legends of Ambaji Temple. They performed a drone shoot to obtain detailed information on Gabbar Hill's terrain and to determine the ideal distance for projector placement. The team also did a chroma shoot with live performers to create various scenes for the show.
"Projection technology has come a long way in recent years. Using just six RGB pure laser projectors to attain such massive coverage is a feat not achieved by many. So far, this is the largest 3D projection mapping show on a natural landscape in India," says Sabharwal.
"Dreaming in Hometown" in Jiangxi, China
Our final destination leads us to Jiangxi province in China, where a large-scale, real-life scenery performance titled "Dreaming in Hometown" celebrates traditional Huizhou culture and includes over 200 live performers, elaborate stage design, state-of-the-art projection, and audio effects to create a world-first experience that highlights ancient poetry and the history of the Huizhou people.
Originally accomplished with two Christie 3DLP® projectors, the performance was enhanced with the addition of two Crimson WU31 and four DWU2022-HS laser projectors, bringing the total number of projectors to eight. Zhongqing Yingye Group installed and commissioned the six additional laser projectors.
To ensure high-quality visuals and stability for the entire performance, the team installed all six projectors within an elevated, sheltered platform behind the seating area and strategically positioned them to display optimum visuals. The projections augment the live performances and reinforce the storytelling process, as realistic images display on various architectural props that form the backdrop on the main stage.
"'Dreaming in Hometown' is the largest and most ambitious real-life scenery performance to be executed in Jiangxi province, and we're honored to be involved in the projection component of this show," said a spokesperson for Zhongqing Yingye Group.
"After taking into account the projection distance, ambient light, and other environmental factors onsite, the Christie Crimson WU31 and DWU2022-HS laser projectors were selected for displaying visuals on a massive projection canvas on stage measuring 40 meters (131 feet) wide and 13 meters (43 feet) high. The customer's decision to deploy another six Christie laser projectors in addition to the two existing Christie projectors speaks volumes about the trust they have in Christie's products."
An unforgettable experience
Nighttime spectaculars deliver unforgettable experiences in often unconventional locations – and the combination of music, lighting, and ProAV solutions that make up many of these projects captivate guests. And like the projects we've highlighted, when spectaculars are done well, they attract a large number of visitors and positively impact local tourism.